Bio
My Grandmother helped me with my first hand sewn and tied quilt as a young girl, but I didn't take my first quilting class until the late 90's. From that moment on, I was hooked. I snatched any quilting time I could get, but a demanding career left minimal time for my quilting hobby, although I was very active in both my Heidelberg, Germany and Northern Virginia quilt guilds over the years.
Like many of you, I started with mostly traditional quilting. Gradually I modified patterns more and more, making my quilts unique, as well as creating my own original designs. Over the last 8 years I gravitated to art quilts, specifically participating in art quilt challenges. An early retirement allowed me time to open my creative aperture to explore quilting on even more new levels!
Challenges are an excellent opportunity to get out of your comfort zone. I embrace it fully and encourage you to do the same and experience the joy and personal satisfaction of challenges!
So why do you want to listen to me? Because I am you! My point is – if I can do challenge quilts – so can you! I'm not fancy. I only recently started entering juried competitions.  However, I'm super excited to share what I have learned with you. I regularly spoke at international conferences across the country in my professional life so speaking about my quilting passion is an easy and natural transition
Awards and Publications
2023 AQS Des Moines, IA Quilt Show, Finalist, Sep. Quilt: Special Delivery
2023 AQS Grand Rapids, MI Quilt Show, Finalist, Sep. Quilt: Crop Circles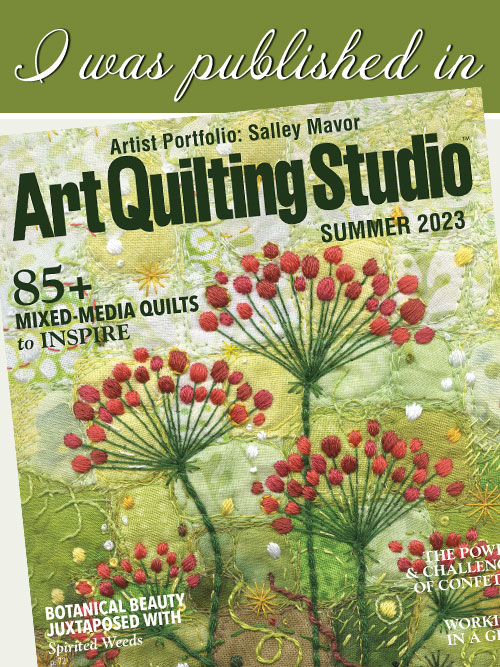 2023 Primary Play feature article, Art Quilting Studio, Summer 2023 issue
2023 Indiana Heritage Quilt Festival, Honorable Mention, "Send Us Flowers" Quilt Challenge category, Feb. Quilt: Special Delivery
2023 Manatee County Fair, Florida, 1st Place, "Shades of Blue" Quilt Challenge category, Jan. Quilt: Buddy Portrait
2022 AQS Des Moines Quilt Show, Finalist, Sep, Quilt: Buddy at the Lake
2022 Quilting's International Language article, American Quilter Magazine, Nov 2022 issue.
2022 Diane's quilt Eastern Market has been published in: Inspired by the Nation's Capital: A Fiber Art Souvenir of Washington, DC by Donna Marcinkowski DeSoto, Release Sep 2022
2022 Iowa State Guild & Reiman Gardens Quilt Show, 1st Place, Garden Art category, Aug. Quilt: From a Few Come Many
2022 Regular writer for the quarterly Quiltfolk Magazine, since Issue #23
2022 Regular writer for the monthly Family Motor Coach Association's Family RVing Magazine, since September issue 2022
2022 The Eyes Prove It article, American Quilter Magazine, January 2022 issue
2021 Cotton Boll to Fabric on the Bolt and Beyond: North Carolina's Textile Role article, All Carolinas Shop Hop Magazine, 2021 issue
2021 Quilting On The Road article, All Carolinas Shop Hop Magazine, 2021 issue
2021 June, Diane's quilt: Bohemian Sunflower Bouquet received a Red Ribbon at the Vermont Quilt Festival
2021 June, Three of Diane's quilts were included in: Celebrating Summer, by Galena Center for the Arts: http://www.galenacenterforthearts.org/exhibits/virtual/2021/celebrating-summer.aspx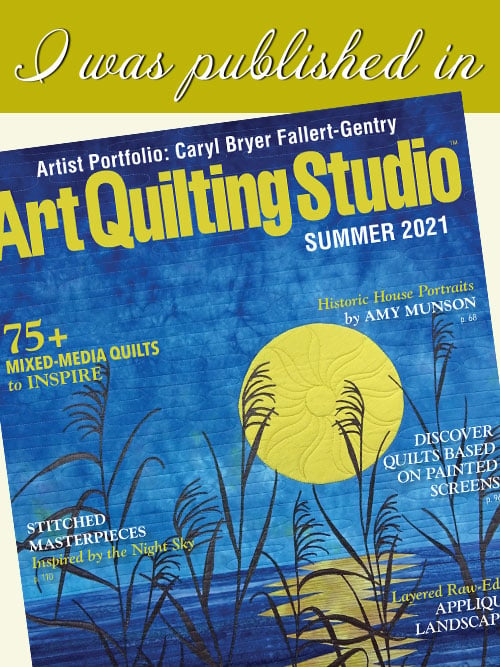 2021 The Last Page feature, Quilt: What Do You See, Art Quilting Studio, Summer 2021 issue
2021 How Well Do You Know Your Iowa Historic Buildings article, All Iowa Shop Hop Magazine, 2021 issue
2021 Quilters in the Virtual World article, All Iowa Shop Hop Magazine, 2021 issue
2021 Stretching Tradition - A New Twist on English Paper Piecing article, American Quilter Magazine, May 2021 issue
Interview with Road to California's It's Sew Road, March 31, 2021 It's Sew Road Episode 5 - YouTube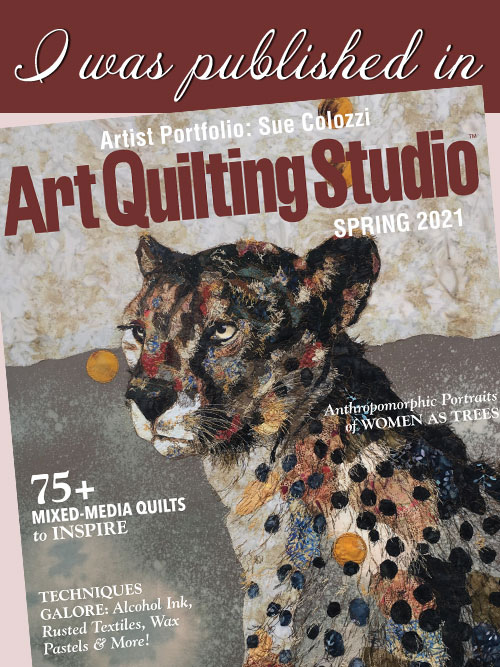 2021 Patchworks Feature, Quilts: Midnight Blossom & Pine Coneflower, Art Quilting Studio, Spring 2021 issue
Interview with Iowa Quilt Museum, Jan 25, 2021 January 26 Virtual Iowa Quiltscape - YouTube
2020 Regularly writer for the annual Shop Hop Inc magazines including Iowa, Illinois, Carolinas, Nebraska/Kansas, Minnesota, Florida, and Missouri since 2020
2020 Diane's quilt Night Sky Blossom has been published in: Backyard Escape - Sacred Threads Healing Quilt Exhibit, by sacredthreadsquilts.com and Barbara Hollinger
2020 Peaceful Quilting article, American Quilter Magazine, September 2020 issue
2020 Iowa's Hidden Treasures: Unfinished Quilts article, All Iowa Shop Hop Magazine, Summer 2020 issue
2020 Mindful Moment tip, Quilts & More, Summer 2020 issue
2020 The Last Page feature, Art Quilting Studio, Winter 2020 issue https://stampington.com/art-quilting-studio/
2019 The Last Word essay, Quilting Arts, Dec 2019 / Jan 2020 issue https://www.quiltingcompany.com/store/magazines-books/quilting-arts-december-2019-january-2020-digital-issue
2019 Plus 60 Quad Cities Art Show, Special Award, 3D Category. Quilt: Van Goghji
2019 Diane's quilt When I Look at You has been published in: Eye Contact: creating a connection, by sacredthreadsquilts.com and Barbara Hollinger
2019 Diane's quilt Cheetah has been published in: Inspired by Endangered Species: Animals and Plants in Fabric Perspectives, by Donna Marcinkowski DeSoto, Release Nov 2019
2018 Plus 60 Quad Cities Art Show, 2nd place 3D Category. Quilt:Metamorphosis
2017 Iowa State Fair, Best of Scott County category. Quilt: Roosters in the Garden
Diane's quilt Gone Cow has been published in: Inspired by Elvis- Art Quilts Celebrating The King, by Donna Marcinkowski DeSoto
Exhibits
2023 Wisconsin Quilt Expo, Back in 1973 Challenge, traveling nationally Oct 2023 – Sept 2025. Quilt: Groovy Ride
Inspired by the Nation's Capital exhibit, traveling nationally, Fall 2022-2024. Quilt: Eastern Market
Cherrywood Fabric Graffiti Challenge exhibit (East Collection), traveling nationally, Fall 2022-2024. Quilt: My Art is Me
Scenic 2022 International On-line Group Exhibition, Aug 1-31, 2022. Quilt: Elusive Beauty Comes Quietly Ashore
Airing of the Quilts, Winterset, IA, June 4, 2022. Fourteen of Diane's will be on exhibit at the Winterset Art Center
Broadway Gallery, VA in collaboration with Sacred Threads Harmony exhibit, June-Aug 2022. Quilt: Susquehanna
National Quilt Museum, New Quilts from Old Favorites 2022 Challenge (Theme: Shakespeare) exhibit April–August 2022. Quilt: A Rose
Maquoketa Art Experience Gallery, Maquoketa, IA, It's Our Day: Female Artist from the Midwest Exhibit, March–April 2022. Quilt: UnHenged
2020 Wisconsin Quilt Expo, Botanical Challenge, traveling nationally Oct 2020 – Sept 2023. Quilt: Flower Garden
Sacred Threads Backyard Escape Exhibit, traveling nationally May 2020 – July 2021. Quilt: Night Time Blossom
Suffrage Small Quilt Challenge sponsored by Dakota County Star Quilting, MN, travelling nationally, March 2020 – May 2021. Quilt: She Voted
Eyes of Wonder: Wonder of Eyes exhibition at the Australasian Quilt Convention, August, 2020. Quilt: The Amazing Eye
2019 Wisconsin Quilt Expo, Log Cabin Challenge, traveling nationally Oct 2019 – Sept 2021. Quilt: Buddy at the Lake
Eye Contact: Creating a Connection Exhibit, traveling nationally starting July 2019, including 2020 Houston International Quilt Festival. Quilt: When I Look at You
Art by the Foot Exhibit, Figge Art Museum, Davenport, IA, June 20 – Sep 1, 2019. Quilt: Moonlight Chicken Dance
Visiting Artist Exhibit, River Arts Center, Clinton, IA, June 19 – August 4, 2019. Quilt: Majestic Patriarch
2nd Annual Madison County Airing of the Quilts, Saturday April 27, 2019, a sample of Diane's quilts were exhibited at the Cutler Donahoe covered bridge.
Inspired by Endangered Species, traveling nationally Fall 2019 – 2021, including 2019 Houston International Quilt Festival. Quilt: Cheetah
Inspired by Elvis Challenge, traveling nationally Fall 2018 – 2020. Quilt: Gone Cow
2018 Wisconsin Quilt Expo, Bake Off Challenge, traveling nationally Oct 2018 – Sept 2020. Quilt: Best of Class: Mom AND her Apple Pie
Bereshin Art Gallery, Bettendorf IA, Nov - Dec 2018. Quilt: Metamorphosis
Scott County Public Library, Eldridge IA, Oct – Dec 2018. Quilt: Bohemian Sunflower
Clinton Community Health Clinic, Clinton, IA, permanently Aug 2017. Quilt: Tooth for Dr. Kate
2017 Wisconsin Quilt Expo, Winter Games Quilt Challenge, traveled nationally Oct 2017 - Sept 2019. Quilt: Ski to Gold
Arts & Old Lace Challenge traveled nationally 2012 - 2014. Quilt: Metamorphosis
Power Suits: An Art Quilt Challenge, traveled nationally Oct 2011 - June 2013. Quilt: Power from Within