Lecture / Workshops & Pricing
I'm excited to offer the following lectures and workshops, both in-person and VIRTUALLY
Lectures
I'm excited to offer the following lectures to your group or guild:
Motivational Lecture
Challenge Yourself – You Never Know Where It May Lead ($1,000)
We never have all the answers to life's big questions but with a solid education and the spirit to continually challenge yourself you can achieve some amazing things! As a civilian military leader and quilting entrepreneur, I'll share humorous stories and provoking thoughts from my 32-year business career and creative life to inspire you to be the best YOU possible and take big steps/actions today to shape your future. This lecture can be modified to cater to your specific group. Great for educational institutions, young professionals and business groups.
Quilt Lectures
Challenges I – Accept the Challenge & Win a Prize
An informative and humorous perspective on my quilt challenge experiences, including a trunk and slide show. I'll discuss what I've learned from the various challenges, other ways to challenge yourself and sources of inspiration. And most importantly how challenges can expand your quilting skills and inspire all your quilting!
Challenges II – The Next Step
Now that you are inspired to challenge yourself – what next? I'll discuss my challenge quilt project experiences. I'll discuss what you can expect if you choose to participate in a professional or invitational quilt challenges, tips and tricks to improve your success and advice from challenge organizers.
Peaceful Stitching
Whether it's machine quilting or piecing in a restful state or hand stitching, slow stitching has gained popularity over the last 5 years. It has many creative and healthful benefits. Let me give you a variety of great ideas to add slow stitching to enhance your quilting and other projects. English paper piecing, embroidery, decorative darning, and big quilt stitching are some examples. It's for everyone!
License to Play – How Do I…
"I don't even know how to start" modifying a pattern. I've heard this many times from quilters. Along with my humorous stories and mishap adventures, I'll provide lots of tips and easy steps to making a pattern your own - from simple to advanced pattern modification ideas to tips for creating your own pattern designs. Bonus – Provide quilt examples from your guild membership and I'll make suggestions on your specific projects.
Attendees Comments:
Diane Murtha's Zoom lecture on Challenge Quilts was a real delight. I will admit to laughing out loud at several points as she shared a number of her "failures." Such an important and humbling lesson for all of us. I laughed and ooh'ed so much that my husband asked me the next morning, "Who were you talking to?" While it would have been nice to be in person to hear a loud and appreciative audience, the Zoom format worked extremely well. Diane knows what's she's doing with technology, with quilting, and with engaging an audience. I recommend her highly. - Elizabeth Bell, Vice-President for Programming, Piecemakers Quilt Guild of Brandon FL

"Loved the lecture! I enjoyed the personal stories of Diane's quilting journey, her enthusiasm, and passion"
"Loved her stories and inspiration!"
"Your lecture was truly inspiring. Thanks for sharing your ideas, successes, and failures. I know it gave me encouragement to try some new things." – Anne, Chambersburg PA
"Your energy to push farther and keep going is boundless. Thank you for a delightful evening." – Jeanne, Brandywine Valley PA
Workshops
Modified Quilt as You Go
Think of this technique as two-step quilting. This class yields 25 perfect 4 ½" quilted blocks embellished with a variety of applique options, then assembled. Quilting thru each block and batting individually makes quilting easy for both new and experienced quilters alike – no bulk or awkward struggling with a large sandwiched quilt. A great project for increasing accuracy, as well as small space quilting, like retreats, or for me, my RV! Add backing fabric and the second step quilting and you are done. This technique can be used to create any size canvas that can be appliqued in endless options. So much fun!

Attendees Comments:
"I want Diane back! Very informative and I think I can, I think I can NOW (after the demo)" - FMCA Rally, Minot ND
"I thoroughly enjoyed Diane's Modified Quilt as You Go Session….her enthusiasm, her spark, her creativity and her technique. Thank you so much for sharing" - Sharon, Summerfield FL
"Thanks for your fun Zoom quilt workshop! You are interesting, enthusiastic, and inspiring!" – Mary, Iowa
"It was wonderful!!!  You did such a great job in this virtual realm. Quite a few of us were a bit apprehensive about an on-line class, but it only took you a few minutes to win us over. You made everyone feel like you were watching over us and that we had you attention."  – Dian, Maui Hawaii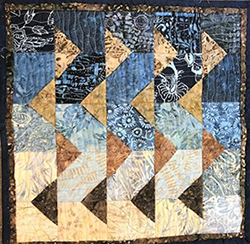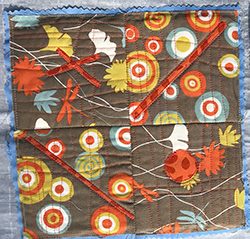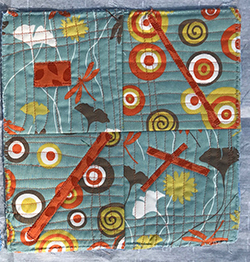 Quilt as You Go Hexies
Like the look of traditional English Paper Piecing but don't want to do all that hand sewing! Try this class. Everything can be done by machine! Your project can be as big or small as you like. It still can be sewn by hand, if you chose.
Attendee Comments:
"Your workshop not only inspired our creativity, but also gave us a feeling of normalcy by being together in a group activity. That was huge! As our first experience with a live Zoom workshop, you have set a very high bar – and we thank you!" – Dian, Maui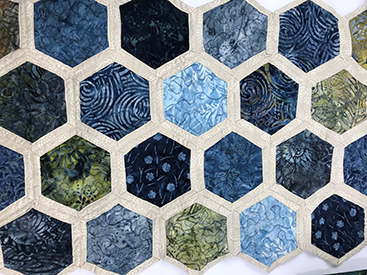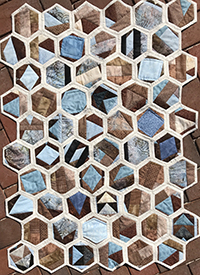 English Paper Piecing (EPP) - Hexies and Beyond
The slow stitch movement is gaining momentum! Great for relaxing; something to do while traveling; while watching ballgames or at meetings. EPP is a very traditional technique of hand piecing. I'll demonstrate some new tips and tricks. We'll work with Hexies, but I'll also show you many other optional shapes and designs.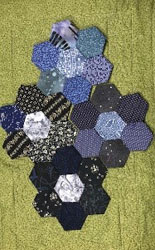 Fantastic Flowers, Leaves & Wings
Want to make a wall hanging or art quilt pop? Learn to embellish your quilts with 3-Dimenstional petals and leaves using my floral wire technique.
Attendee Comments:
Any class is so much more enjoyable when there is a great teacher presenting the concept. Here is a description of some of her actions and comments that lead me to believe that Diane is a great teacher. Diane would share personal stories, as well as ask questions so students in the class would also feel comfortable sharing their ideas and stories. It gave everyone a chance to feel at ease as the class progressed.
She commented, "I learn from my students." Everyone has some tidbit that becomes a helpful hint for all. Even on Zoom, not only was she was observing the students but also calling everyone by name. She commented to one student, "Liz, you have a quizzical look, do you have a question?" Not everyone catches an idea first time around and without hesitation Diane was more than willing to repeat directions or techniques. With her observations, comments, directions, Diane connected with the students in the class. That's what makes a great teacher. I learned a new, versatile technique and a couple of helpful hints. Diane, thank you for enjoyable morning in your 3D Fantastic Flowers. - Chris Pennel, Columbine Quilters Guild, CO

Thanks for the super class with Columbine Quilt Guild. I enjoyed learning new techniques from a very creative instructor! - Sally Blanchard, Columbine Quilt Guild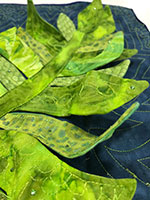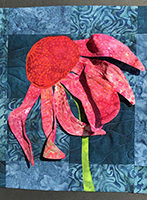 What You Can Expect with Virtual Zoom
Host - up to 100. More if needed
Pre-lecture consultation
1-2 practice sessions, as needed
How to Zoom Instructional videos
30-minute Early Start to assure connectivity and comfort level
2 Camera set up AND good lighting
Several teaching techniques

Live teaching and videos
Pre-recorded video demos
Live support (feedback, guidance, Q&A) throughout the workshop
Live wrap up/Show & Tell at workshop conclusion
Continued project support via email for up to 30 days after the workshop

Front Row seating for everyone!!
Rates
Lecture Fee - In Person: $450 + travel expenses
- Live via Zoom: $450 Host up to 100 (A $150 upcharge for larger groups)
4 hr Workshop Fee - In Person or live via Zoom: $45 per student (minimum 10, maximum 35)
Contact me about Bundled Rates for 3 or more events, i.e 2 lectures and 1 workshop; 1 lecture and 2 workshops; etc.
References To Motivate You
Here are some Peaceful Stitching Resources
www.WeTalkFiber.com
www.TextileEvolution.com
The100dayproject on Instagram #the100day project
www.slowstitching.com
www.Ravelry.com
365 Days of Mindfulness, by Yvette Jane
"Headspace" meditation app
www.Stitchlinks.com with Betsan Corkhill
Here are a few of my super favorite books that I reference in my lecture (in author alphabetic order)
Serendipity Quilts: Cutting Loose Fabric Collage, by Susan Carlson
365 Free Motion Quilting Designs, by Leah Day
Simply Stunning Woven Quilts, by Anna Faustino
Twisted: Modern Quilts with a Vintage Twist, by Mary W. Kerr
A Quilted Memory: Ideas and Inspiration for Reusing Vintage Textiles, by Mary W. Kerr
Doodle Quilting, by Cheryl Malkowski
Simple Start Stunning Finish, by Valori Wells
Radiant New York Beauties, by Valori Wells